Gastric Band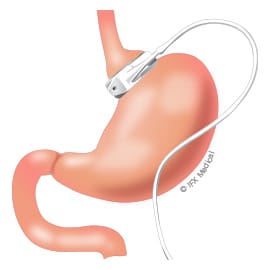 Gastric banding is a restrictive weight loss surgery that limits the amount of food the stomach can hold without any alterations to the gastrointestinal tract. With a gastric band, you will become full after eating less food and will stay full longer between meals.
There are two types of gastric banding devices: the Lap Band System and the Realize Band. While both of these devices are similar in the way that they function, slight design differences mean that one may be better suited to your needs than the other. Dr. Taylor will advise you on which device may be the better choice.
The gastric band is inserted during a laparoscopic procedure. This is a minimally invasive operation that uses specialized tools to operate through minor incisions in the abdomen. Laparoscopic surgery allows for a faster recovery, reduced pain and a shorter hospital stay than traditional, open surgical procedures.
How a Gastric Band Works
There are three components to the gastric band: the band, the connecting tube and the access port. During gastric band surgery, the band is placed around the upper portion of the stomach, forming a small pouch that will function as your stomach as you lose weight. The band is connected via plastic tubing to an access port that is located just beneath the skin of the abdomen.
The gastric band is lined with balloons that are filled or deflated to control the amount of restriction applied to your stomach. This is done with a saline solution that is injected into the access port and delivered to the band through the tubing.
No portions of the digestive tract are altered or bypassed during gastric band surgery, which makes nutritional deficiencies less of a risk following this bariatric procedure.
The gastric band procedure is the only type of weight loss surgery that is entirely adjustable and reversible. If the band creates complications that necessitate its removal, it can be taken out with a revisionary procedure. However, note that removal of the band is typically only done when necessary and may not be covered by insurance if done for reasons outside the correction of serious health concerns. Women who plan to become pregnant are able to have the gastric band deflated to accommodate the additional nutritional requirements of pregnancy.
Potential Side Effects of Gastric Banding
Risks and complications are a possibility after any surgical procedure, and gastric banding is no exception. A small percentage of gastric band patients experience erosion or slippage of the band. Your weight loss surgeon will discuss potential risks with you.
Gastric band surgery is one type of bariatric surgery, but before you make a final decision it is important to understand all of your weight loss surgery options.