Diet After Weight Loss Surgery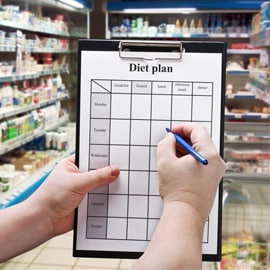 After weight loss surgery, everyone follows a similar timeline of dietary changes. This guide page will outline the basic changes you can expect to make after getting weight loss surgery. This timeline is only a supplement—not a substitution—to your weight loss surgeon's guidelines.
Always follow the directions of your weight loss surgeon when making dietary choices after weight loss surgery.
Body Changes and Your Diet
Whether you undergo Lap Band, gastric bypass or sleeve gastrectomy surgery, the first few days following your operation will be similar. You will be restricted to a liquid diet while your body heals from surgery. This stage lasts for a period of about two weeks. Your weight loss surgeon will let you know when you are ready to begin transitioning away from your liquid diet.
It will take several months for your body to acclimate to the changes in your stomach enough to handle regular foods. During that time, you will make gradual dietary changes. Following your weight loss surgeon's guidelines during this time is important to allow your body to heal, as well as for your weight loss efforts.
Weight Loss Surgery Dietary Timeline
The transition to solid foods after weight loss surgery is a slow one. Don't rush the process. If you have any questions about your diet following weight loss surgery you should contact Dr. Taylor.