Diet Stage 4—Soft Foods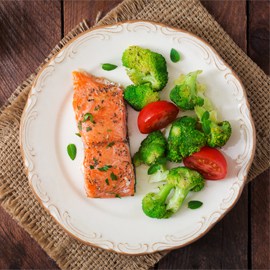 Several weeks after weight loss surgery, you will be able to incorporate soft foods into your diet once again. This is the final stage in the post-weight loss surgery diet before the return to regular foods. The exact length of time it will take after your surgery for your body to be ready for soft foods depends on a number of factors, including the type of weight loss surgery you've undergone and how well your body is progressing through the healing process.
Dr. Taylor will provide you with exact instructions as to what you are approved to eat, and will tell you when you are able to begin incorporating soft foods back into your diet. For many people this happens about three weeks following their weight loss operation.
What are Soft Foods?
Unlike the pureed foods of the third stage of the post-bariatric surgery diet plan, soft foods do not need to go through a blender to be consumed. Soft foods include whole foods that are cooked in such a way that they are tender and easily digested.
Some example of soft foods may include:
Steamed or canned vegetables
Mashed potatoes
Low fat cheeses
Baked fish
Cooked beans
Bananas
Orange slices
Baked apples and pears
Dr. Taylor will provide you with a detailed list of the foods that are ideal for your diet following your weight loss operation. Always refer to the instructions provided to you personally by Dr. Taylor as a first line of post-surgical support.
Adjusting to Soft Foods
As you progress through the stages of your post-weight loss surgery diet, remember to approach the changes slowly and gradually. Give yourself time after eating to allow your body to digest and accept the food. If you are unsure if you should be eating something, refrain from doing so until you consult with Dr. Taylor.
While incorporating soft foods into your diet it is wise to continue eating protein first to ensure that you regularly obtain enough of the nutrient. You should avoid eating cold cereals, raw vegetables and highly processed meats during this stage. As is true at any point after weight loss surgery, sugary and carbonated beverages should be avoided.
You should continue to drink the adequate amount of water during this dietary stage. After about one week of the soft foods stage, many people are able to begin reintroducing regular foods to their diet.