Fall for an Indoor Weight Loss Workout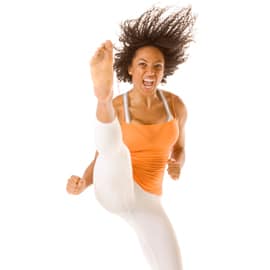 If the brisk evening weather and abundance of pumpkins haven't tipped you off yet, fall has come to Michigan yet again. As you dig out your comfy sweaters and holiday decorations, it's important to think about how this season and the winter ahead will affect your weight loss plans.
While you may have spent the past few months exploring Michigan's great outdoors or soaking up the summer sun, things are cooling off quickly in Ypsilanti, Saginaw and Detroit. Bariatric surgery will require exercise to bolster your results, but the prospect of spending all autumn cooped up in a gym can be disheartening. Don't worry—there are plenty of fun things you can do to get fit indoors.
These activities are great for any season, so be sure to stick with them if you find them fun and effective. Remember: the most beneficial workout will be something you enjoy—use your workouts to explore interests, try new things and add a little excitement to your everyday life!
Martial Arts
The perfectly-toned physiques of martial arts stars like Bruce Lee should be evidence enough that kicking butt is a great workout. Martial arts can help you build your strength and muscle tone, boost your cardiovascular health and improve your reflexes, but they can also introduce you to another culture and even help you find inner discipline and mental empowerment.
Practices like judo and Muay Thai will give you valuable self-defense skills, but may be too strenuous if you're just beginning to build up your fitness after bariatric surgery. Other activities like Qigong and tai chi provide many benefits without requiring a great deal of physical fitness, instead introducing you to a series of slow and meditative movements. If you decide to pursue a martial art, just be sure to take a class—this is the best way to get a grasp of the basics and avoid injury.
Dancing
Since civilization began, dance has been one of mankind's favorite ways to get moving, but dancing can be as much about fitness as it is about fun. There are countless different kinds of dance to learn—tango, salsa, square, ballroom, swing, bhangra, hip hop, breakdancing—so find a style that moves you!
Just like martial arts, dancing can give you a window into another culture while also improving your balance, flexibility and strength and providing all the benefits of a great cardio workout. But while martial arts classes can be social, dance classes are even more so, giving you a chance to meet some new friends and strengthen existing relationships. Dance can help you improve your fitness, but it can also help you boost your self-esteem and well-being.
In addition to giving you a great workout, these activities are chances to learn, socialize and grow after bariatric surgery. Of course, they aren't the only ones—what other awesome indoor activities do you plan on tackling this fall? Tell us in the comments below!