A Gym Fit for Weight Loss
How finding the right gym can help after bariatric surgery in Detroit, Ypsilanti or Saginaw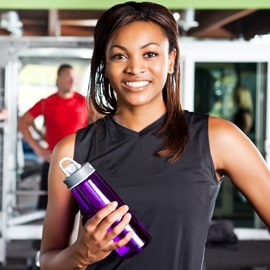 Because working out indoors is a near-necessity during fall in Michigan, it's a good idea to find a reliable place to spend your autumn exercise sessions. Any place with four walls and a roof will do, but a gym that offers the kinds of amenities, equipment and resources you need to make the most of your workouts will be especially beneficial.
Though there are plenty of gyms to consider after bariatric surgery, not all of them will be perfect for you. Every gym offers different advantages to its members, so it's important that you find a fitness center that meets your own individual needs. Before you commit to a gym, ask yourself the following questions to make sure it's the right one:
Is it convenient?
This may well be the most important factor in a gym, as it can easily stand between you and getting a good workout. Your gym should be close to where you live, or easily accessible from your workplace if you plan on exercising before heading home for the day.
Even if you're dying to take advantage of a gym's features, you may hinder your motivation if you pick a gym too far away. You may also want to consider the hours—many gyms are open late and on weekends, but you should make sure that your gym will be open when you're most likely to exercise.
Does it have everything I need?
We all have different preferences when it comes to exercise and our gym choices should reflect that. Those who prefer sticking to group activities like yoga or Pilates may want to find a small studio that offers those activities exclusively. Others who want more variety and state-of-the-art equipment may want to seek out a full-sized fitness center that offers more amenities.
The best way to get an idea of what a gym offers is to take it for a spin– something most gyms will allow with trial memberships. Before committing, be sure you've had a look around the facilities and know for certain that your fitness center will have everything you're looking for. Memberships at larger gyms often come with higher price tags, but this may be worth it if a gym seems particularly suited to your needs.
Do other people like it?
Though a trial membership will give you a good idea of how a gym operates, talking to its members can be even more revealing. Try sparking up a conversation with another gym-goer and see what he or she thinks about the facility. You can also ask your friends for a gym recommendation—this may help you find a good one quickly, but it also means you can work out with your friends. It may also be useful to check out ratings on sites like yelp.com.
These aren't the only factors to consider in a gym, but they are among the most important. Finding the right gym can be a big help in your fall and winter workouts, so start looking now before things get too cold!
Have you found any great gyms after bariatric surgery in Detroit, Ypsilanti or Saginaw? Tell us about them in the comments below.