Take a Hike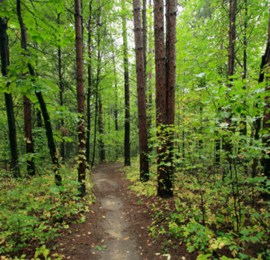 If you're looking for a way to get a weight loss workout and some fresh air this summer, look no further than your own two feet. Michigan is home to countless trails—some wind endlessly through lush, old-growth forests, while others provide a taste of the great outdoors while staying closer to home. After bariatric surgery for gastric bypass or Lap Band, walking is among the most effective low-impact exercises to stay healthy and shed pounds, and staying in the shade of Michigan's towering trees will help keep you cool during the sweltering summer months as you work toward your goal weight.
So lace up your hiking boots and fill up a water bottle—it's time to hit the woods. Here are some great places to take a hike:
Shiawassee National Wildlife Refuge. Spanning more than 9,500 acres just outside of Saginaw, this incredible nature preserve features miles of trails that wind through hardwood forests and marshes. Over the course of each year, Shiawassee is home to over 270 different species of birds, which stop at the park during migration. Try taking a shot at the 4.5 mile primitive Woodland Trail, which will give you a view of both the majestic hardwood forest and historic landmarks from coal mining in the early 20th century.
Pinckney State Recreation Area. At a whopping 11,000 acres, Pinckney has a massive trail system, offering more than 40 miles of multiuse trails for hikers and bikers alike. Just Northwest of Ann Arbor, Pinckney has something for just about every outdoor enthusiast, with an extensive chain of fishing lakes and plenty of opportunities for remote, backcountry camping. With so much going on, it may be worth planning a weekend trip to get as much as possible out of a trip to this great park.
The North Country Trail. Though trying to tackle this 4,600 mile trail in one go may not be a wise choice, tackling a small segment offers you the opportunity to take part in one of America's most incredible hiking excursions. The North Country National Scenic Trail connects seven different states (North Dakota, Minnesota, Wisconsin, Michigan, Ohio, Pennsylvania, New York) and passes all the way through both of Michigan's peninsulas, making it easy to enter the trail from many different locations throughout the state. For maps and information on getting onto the trails many different sections, visit the trail's website.
Of course, Michigan has countless other opportunities for hiking and outdoor fun as well. Take a look at what's in your area by visiting Michigan's official travel site.