Steps to a Fitter You after Weight Loss Surgery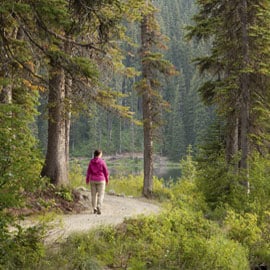 Weight loss surgery will help you gain control over your diet, giving you a leg-up on the weight loss process by reducing hunger and helping you to cut calories. To keep this weight loss going you'll need to develop healthy habits that will help you sustain your new weight level and maintain a healthier lifestyle. One of these healthy habits is regular physical activity.
In 2011, the Centers for Disease Control found that less than 20 percent of Americans engage in the recommended amount of physical activity daily, while more than 30 percent of adults do not incorporate exercise into their lifestyle at all—not even at a moderate level.
Whatever your activity level was prior to weight loss surgery, it is a good idea to start getting more active now. Gyms are a great resource for this, but they are far from your only option. Find ways to become more active around your own home and contact some friends to start working out more often together. Head outside and enjoy the natural resources surrounding you. There are all sorts of ways that you can become more active. Here are a few tips to keep in mind as you get started:
Start out slow: Don't jump into a workout routine right after surgery. Wait until your weight loss surgeon clears you to start working out regularly, and then gradually become more active. Start with basic, moderate-intensity workouts like walking, gardening or using light hand weights.
Get the right supplies: You don't need the newest trends in fitness gear, but you will need a sturdy pair of sneakers, a good pair of sweatpants or shorts, and a comfy t-shirt as you get started. The wrong clothing, like denim, sandals or clothing that is too small can cause discomfort, and may even lead to an injury.
Get equipment: If you see yourself working out more at home than heading to the gym, consider filling your home with the right tools. This might include hand weights, a yoga mat or an exercise ball. Get tools that you can store out of the way, but that you can keep accessible enough to use daily.
Talk to a friend: Try meeting up with friends to make your workouts a more social experience. Ideally, find a friend who has a similar fitness background as yourself so you enter your workout with compatible expectations.
Try setting up a regular routine to stick with as you get started with fitness. This way you always know when and where your workouts will be. Also, set yourself up for success with strong but realistic goals. Challenge yourself in ways that you can meet your own expectations. Setting your goals too high or too low can potentially lead to discouragement.