Three Bedrooms, Two Bathrooms and a Weight Loss Gym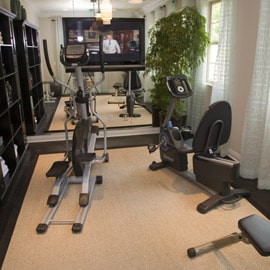 Building a home gym after bariatric surgery in Michigan
Exercise will become a crucial part of your life after sleeve gastrectomy, gastric bypass or Lap Band in Ypsilanti or Saginaw, but it isn't always easy to make it to the gym. When you arrive home after an exhausting day at work, it can be a struggle to motivate yourself for a trip to your fitness center, while the thick snow of a Michigan winter can make even local travel treacherous.
Why not just work out at home?
Building a home gym will give you access to exercise whenever you need it. Regardless of what each day brings, your home gym will always be waiting, offering an exclusive fitness area that is never crowded or closed. Any idle minute at home can instead become another step towards your fitness goals.
A home gym can be a tremendously valuable addition to your home after sleeve gastrectomy, gastric bypass or Lap Band, and you don't need a million-dollar budget to build one. If you're ready to get started, ask yourself these questions:
Where Will You Put It?
A spare bedroom can be the easy answer to this question, but your gym doesn't have to take up an entire room of its own. You can do a lot with just six square feet, so look for unused areas of your den, garage, basement or attic. Just remember that your exercise equipment will ideally need to stay set up at all times to make it easily accessible.
Many things can make your gym space even better, including:
Ambiance. Windows can provide fresh air and natural light, both of which will make for a more invigorating workout area. You may also want to include houseplants, mirrors, lighting and other decorations, while clutter and distractions should be removed.
Electronics. A stereo, a TV, a computer and a fan can all be useful, but you'll need to have electricity to use them. Think about the number of outlets you'll need and plan accordingly.
Storage. Shelves and other storage solutions can make it easier to organize your equipment and stow away unused gear.
What Will You Put In It?
If you love sweating it out on the exercise bike, treadmill or elliptical, each can make a valuable addition to your gym. However, these machines are also bulky and costly, and you don't need them to get a good workout. If you don't have the space or money to commit to a larger exercise machine, you can still have a fully-functioning gym with simple, inexpensive items like:
An exercise ball
A yoga mat
A set of free weights
Resistance bands
You can include whatever you want in your personal gym, so stock your workout area with whatever you think you'll use the most. Remember: the most important thing about having a home gym is using it—spend as much time as possible in yours and work to continually improve it.
Has building a home gym helped you after gastric bypass, sleeve gastrectomy or Lap Band in Ypsilanti or Saginaw? Tell us about your home gym in the comments below!