Boosting Your Mood after Weight Loss Surgery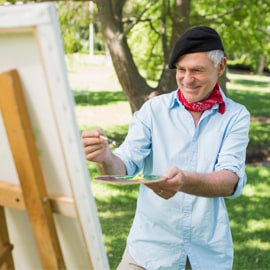 Our moods can affect how we perform in a number of different capacities. From our work, to home life and daily activities—our levels of happiness or sadness can impact it all.
When you're trying to lose weight, a negative mood could make it more difficult to keep up with your goals. Stressful or negative thoughts can be overwhelming and spoil your motivation. You could also revert to harmful food habits like emotional eating.
After your weight loss surgery it is helpful to keep your motivation and energy levels high. Find new ways to improve your mood and keep your weight loss goals in sight.
Mood Boosting Activities
Keep things light. Do things that make you feel good about yourself. After all, your post-bariatric lifestyle is all about improving your wellness. Some mood boosting activities are:
Exercise. This may not sound like much fun, but studies have shown that the link between exercise and mood is stronger than we think. After a stressful day at the office, try going for a walk or riding your bike. Both activities can be done at your own pace and allow you to remove yourself from any negativity. Plus, your post-bariatric lifestyle requires that you follow through with daily activity, so why not kill two birds with one stone?
Yoga. Yoga allows you to clear your mind while also toning your muscles. You get the daily activity that you need while enhancing your mood.
Music. Listening to or playing music can be a very calming experience. Find something you really like and put it on whenever you feel extra amounts of stress or unhappiness. This can alleviate your negative thoughts.
Gardening. Many people garden to relieve stress. If you're feeling angry or unhappy, try planting something. Gardening connects you with the earth and leaves you feeling accomplished. What better way to boost your mood than with a meal made from your own fresh produce?
Painting, sculpting or drawing. Get your hands messy and make something. Even if you're not an artist, you can still make something for yourself. Have fun and let out your emotions on a canvas or a lump of clay.
Whatever it is that makes you happy following your weight loss surgery, find it and stick with it. You've come too far to let negativity or bad moods affect your weight loss and wellness goals.