Becoming Active as a Family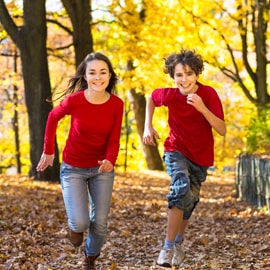 Regular activity is a fundamental aspect of living a healthy lifestyle. After weight loss surgery, you can encourage your entire family to become more active by changing the way you spend time together. By helping others in your household become more active, you may even encourage your family members to make improvements in their own health as you lose weight.
Get Active, Lose Weight
Researchers from Stanford University found that approximately 48 percent of kids with severely overweight or obese parents struggle with obesity themselves. The desire to set a better example or to live longer for their kids is one of the leading reasons people report wanting weight loss surgery.
There are steps you can take to improve the well-being of your entire household. After weight loss surgery, the first step may be to quite literally start taking some steps.
Walking Together
Walking is one of the first activities you'll be encouraged to start after weight loss surgery. At first, you'll walk just small distances to move around your home and workplace. As your body heals, you can start taking longer walks, and may even choose to start a walking routine.
Encourage your family members to join you for walks. Walking together is a great opportunity to catch up on activities of the day and share thoughts as you improve your fitness level. Having someone to walk with may even help you stick to your fitness routine.
Here are a few ideas to start walking with your family:
Take the dog for walks in the morning and evening
Go for walks around the neighborhood after dinner
Take weekend trips to local parks
Family Fun
While walking is a great place to start, it is far from your only option. Think about the ways you and your family members spend time together. Many families see each other while paying attention to the TV or computer. A family night out might constitute seeing a movie or getting something to eat.
There are healthier ways that you can spend time together. Instead of spending an evening in front of the TV, consider heading out side and tossing a football or baseball around. Replace your weekly trip to the ice cream parlor with a sporting event. Encourage your kids to play on local sport teams and make a family event of it by cheering them on from the sidelines.
After weight loss surgery, encourage other members of your household to improve their health as well by re-defining how you spend time together. Exercise doesn't always happen at the gym. Just getting outside and moving more often can help improve your fitness level as you lose weight.