Yoga Hiking: Inner Peace, Outer Beauty, All-Around Workout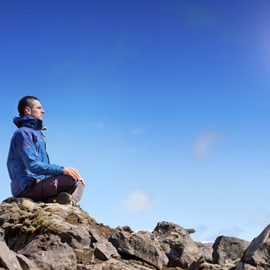 "Look deep into nature, and then you will understand everything better."
– Albert Einstein
A gentle forest breeze grazes your skin and rustles the leaves above. The whole world is alive, and it's all around you: chirping birds and buzzing insects, the distant call of some unknown animal—even the ground below seems to breathe in this wild place. Though you can feel each of these sensations, your attention is focused inward, connecting to a world within that is just as animated.
After a weight loss surgery like gastric bypass in Ypsilanti or Saginaw, exercise will be a vital part of maintaining the weight you've lost and continuing to progress towards your goals. We've sung the praises of hiking as a weight loss workout, but you may have also heard yoga mentioned among the best ways to build your strength during a weight loss program. Though each of these exercises has its own benefits, what if you could combine both of them into the ultimate calorie-burning, stress-reducing, inner-peace-building workout?
You can, and Michigan is the perfect place to do it after having gastric bypass! Ypsilanti and Saginaw may be a long drive from the world-class parks of Northern Michigan and the Upper Peninsula, but our great state is filled with green places to explore, many of them close to home and perfect for a relaxing yoga session.
The summertime won't be around forever—we need to take advantage of the warm weather while we can. If you've considered trying yoga, you may want to start off with a class that will teach you the basics first (check out Ypsi Studios in Ypsilanti or Great Lakes Yoga in Saginaw), but there's no reason to confine yourself to a stuffy studio once you feel comfortable enough to practice a few poses on your own!
Explore Your Inner World by Exploring the Outer World
Part of what makes yoga such a powerful practice is its ability to bring us closer to our own bodies. Unlike other workouts, yoga gives us time for quiet reflection and tranquility, helping our bodies unwind naturally while also building strength. Rather than fighting our bodies through every step of a difficult run or weight lifting session, yoga helps us work with our bodies, finding balance, security and peace in every measured movement.
After gastric bypass, yoga can also connect us to the world around us. We're encouraged to think about the way the ground supports us, the way each movement is influenced by the world at large.
So why not bring your yoga practice into the world at large? Exercising outdoors has proven benefits like boosting your vitamin D levels, improving mood and concentration, facilitating faster healing and reducing stress. Even if you're a novice hiker or yogi, combining the two can make for a workout with the ideal attributes: challenging but relaxing, peaceful but demanding, vigorous but low-impact.
Ready to plan your yoga hike? Here's how to get started.
What to bring:
Hiking shoes
Water bottle
Backpack
Yoga mat (an easy-to-pack travel version may be best)
Where to go:
Try to find a park where you can stop along the trail to unroll your mat and squeeze some yoga in. Because this may not be possible on all trails, you can also find a grassy, open area in a park to practice yoga before or after hitting the trail. Anywhere with trails will do, but the more secluded the better. Try Pinckney State Recreation Area near Ypsilanti or Shiawassee Wildlife Refuge near Saginaw.
How to do it:
Even if you plan to do yoga on the trail itself, try to start with a pre-hike yoga session, with light stretches to warm up your muscles for hiking. Make your yoga practice as relaxing as possible—hiking should be the strenuous part of this workout. During your hike, focus on your breathing as you would during yoga, which can become just as meditative. Bring your attention away from your worries and focus on the world around you, appreciating the sights, sounds, smells and feelings you encounter.
On their own, hiking and yoga are among the very best workouts after gastric bypass, but combined they offer something even better. All of Michigan will be cold and snowy before you know it, so give yoga hiking a try while you can!
Have you tried yoga hiking? Let us know how it went in the comments below.