Nail Biting, Hair Pulling and Lap Band–Oh My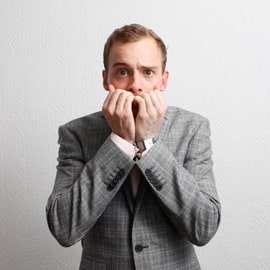 Getting weight loss surgery can be an anxiety-producing experience. Whether you've gotten sleeve gastrectomy, Lap Band or gastric bypass, Michigan is full of stressors that you are going to come face to face with after your procedure. For many people the stress of this life-changing experience is magnified by the absence of former unhealthy coping mechanisms, like turning to an entire bag of chips to soothe the pain.
Anxiety is a troublesome experience. It can come out of just about anywhere and can linger for days, leaving in its tracks a wide array of mental and physical symptoms. How you cope with your anxiety directly impacts how harshly the symptoms can affect you. What will come as a mild headache to some could mean several days of a migraine for others. Developing healthy coping mechanisms can seriously impact your ability to overcome anxiety before it derails your entire day.
Here are a few tips to start coping with your anxiety in healthy ways after getting Lap Band or gastric bypass surgery in Michigan:
Keep a journal. Sometimes just getting your thoughts out of your head and onto a piece of paper can be a great help to your stress and anxiety levels. Writing in a journal has added benefits over sharing your troubles with a friend, as there are no negative repercussions to venting to a piece of paper!
Exercise. This is great for your anxiety level and for your weight loss goals. Get outside and go for a walk. Grab your bike and enjoy the fresh air. Head to the gym and lift weights to your heart's content. You get the drift—when you are feeling anxious, get moving.
Challenge negativity. Sometimes you are your own worst critic. Combat negative thoughts with positive ones by giving yourself a few compliments and keeping them in your head for a rainy day. When you feel the negative spiral coming on think of all the positive things about yourself, your weight loss efforts and your health in general.
Take deep breaths. Deep breathing exercises are a great way to cope with stress and overcome anxiety. Try breathing in deeply through your nose until you can feel the air deep in your chest and stomach, and then push out a full breath as you exhale. About ten of these can help you calm your nerves just about anywhere, but do as many as you feel comfortable with. You can't breathe too much!
Do you have any other tips for coping with anxiety after getting weight loss surgery? Share your thoughts and experiences in a comment below.