Make Cooking Easier after Bariatric Surgery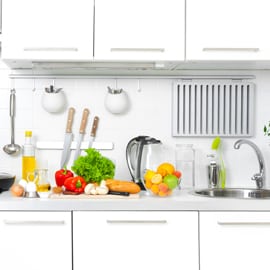 Healthy cooking doesn't have to mean an eternity in the kitchen every night. Though fast food and restaurant fare will be off the menu after gastric bypass, sleeve gastrectomy and gastric band surgery, you don't have to spend hours slaving over the stove to meet your dietary needs. By adopting a few strategies that make it easier to cook healthy meals quickly, you can maintain a healthy diet and save time for the other important things in life.
Cooking more efficiently after bariatric surgery tends to require a closer look at two aspects of your cooking: preparation and execution.
Preparation
If you feel like you're flying by the seat of your pants every time you cook dinner, you might want to plan things out a bit better. Instead of spending an hour finding the right recipe, sit down to figure out what you'll cook for each meal this week. Then, you can go on one grocery run to get all the ingredients you need—which will be much more efficient than rushing out to the supermarket every evening.
Of course, it also helps to keep your kitchen prepared. If your tools are constantly dirty or disorganized, it will take you much longer to get started. Do the dishes before they pile up and take some time now to put every piece of cooking equipment in a place that makes sense. Arrange similar items together and get extraneous stuff out of the way by putting rarely-used items in an out-of-the-way storage area.
Execution
With a plan in place and an immaculate kitchen to work in, you'll be ready to get cooking. You can make it easier to put together healthy meals by:
Using prepared ingredients. If you know you'll be having a busy evening, try using some time in the morning to prep your ingredients ahead of time. This way, you can get cooking without chopping, dicing and measuring. You can also use canned and frozen fruits and vegetables—just be sure that these do not include added ingredients that diminish their nutritional value.
Cooking in big batches. Your portion sizes will be small after bariatric surgery, but that doesn't mean you have to cook tiny amounts of food. If you cook more than you need to eat tonight, you can freeze the leftovers for an instant healthy meal when you're crunched for time.
Adding new appliances. It will help to have more technology at your disposal than just the oven and stove. The crockpot will slow cook a meal for hours without supervision and can be a great way to make big batches. The microwave is perfect for boiling and thawing in minutes. The rice cooker can make perfect rice in a jiffy, but can also be used to steam vegetables and make soups, sauces and chili.
Many people write off healthy cooking as too time-consuming, but it doesn't have to be. Use tips like these to stick to your diet and save time on every meal you make.