Lose Weight, Give Back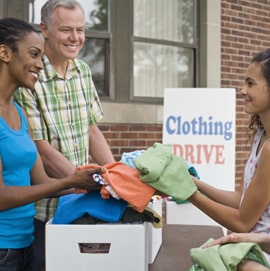 Altruism can change the world. One selfless action on your part, regardless of its scope, can make an unmistakably positive impact on another person's life.
Now that you've sought the life-changing treatments of bariatric surgery, your life is starting to move in the right direction. It doesn't matter whether you've lost a lot of weight or a little—you've made a huge step towards building a healthier lifestyle and reclaiming control of your body and your weight. Wouldn't it feel great to share this positivity with others who may not have your fortune, those who may need the philanthropic helping hand you can provide?
We often hear it said that it's better to give than to receive, but now we have the research to prove it. Donating your time to a charitable organization in Detroit or anywhere else in Michigan will do a lot of good for your community, but it will also help you relieve stress, improve your self-esteem and put your own problems in perspective. Volunteering will even help you burn calories—all that time spent on your feet at a food bank, clothing drive, Habitat for Humanity project or community garden will pay off by helping you keep off the weight you've lost.
Volunteering is one of the best ways to help make the world a better place for everyone in it, you included. Here are a few more ways that giving back to the less fortunate can pay off in positive progress after weight loss surgery:
You might learn a thing or two. Volunteering will undoubtedly expose you to new and exciting experiences that you wouldn't otherwise be faced with. Regardless of what organization you choose to donate your time to, you'll gain new skills and knowledge from your involvement. If you spend enough time volunteering, you might even develop a skill valuable enough to add to your resume!
You can make some new friends. Getting involved with a charitable organization is a great way to meet new people. Working shoulder to shoulder with other volunteers, you'll get the chance to make new friends who may become valuable parts of your support system after bariatric surgery in Michigan. Volunteering can be a great way to meet new people as you adjust to life in a new city or try to fill the bored and lonely hours of a dreary day.
You may see the world in a new way. Before weight loss surgery, you likely faced many challenges, and the future will hold many more. But working closely with those less fortunate with you can put your own problems in perspective, helping you see that no issue in your life is too big to overcome. You can share the inspiring story of your weight loss journey with those you help, but they may also teach you something about persistence and overcoming the odds.
What other activity simultaneously burns calories and makes the world a better place? If you're looking for a new way to get a workout and give back to your community, look no further than local charities. By volunteering, you can make wherever you live a more positive place to lose weight.
Have you volunteered before or after weight loss surgery? Share your experiences and questions with us in the comments below!