Stress-Free Bariatric Dining
How to eat out safely after LAP-BAND, sleeve gastrectomy or gastric bypass in Ypsilanti or Saginaw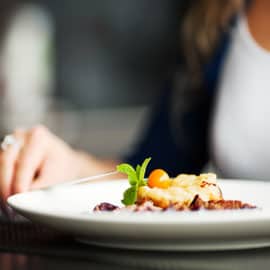 Though your lifestyle will change after gastric bypass, LAP-BAND or sleeve gastrectomy, temptations will remain. While you're dedicating your days to healthy new habits, unhealthy old habits are still out there. After weight loss surgery in Michigan, you need to have strategies in place that help you stick to your program in any situation.
Eating out is something we all do, whether for a business lunch or buddy's birthday. Unfortunately, social dining situations can become a big source of stress after weight loss surgery. Suddenly, your favorite restaurant may seem much less inviting. With problematic portion sizes and tons of tempting treats, the menus of most American eateries are not exactly bariatric-friendly.
But LAP-BAND, sleeve gastrectomy and gastric bypass don't have to prevent you from enjoying the many fine restaurants of Michigan. By carefully planning your dining experience, you can stick to your diet and enjoy a meal with your friends. Start with these tips:
Plan ahead. It's the 21st century—we can find answers to just about all of our problems on the web, including what to eat at a restaurant. Many menus are available online, making it easy to scout for healthy options before you sit down at the table. Once you and your friends have decided on a restaurant, take a few minutes to peruse its selections online. Having your meal picked out beforehand can take stress out of any dining situation, so check out the restaurant's website or head to a site like yelp.com
Keep sizes small. Most modern portion sizes are more than enough for two people—in other words, way too much for your stomach after bariatric surgery. To avoid overeating, try reducing portion sizes by splitting a meal with a friend, or eating a proper portion and taking the rest home. You can also make a small meal by ordering a couple of sides in lieu of an entree. Some restaurants offer reduced portion sizes if requested and may even offer a discount with a WLS Restaurant Card.
When in doubt, ask your server. Some get squeamish about asking too many questions of a server, but his or her job is to help you. Servers may know healthy options not listed on the menu and will likely be more than happy to meet your needs if you communicate them. Ask your server about the healthiest items available. You can also request information about how the meal is prepared to avoid foods that are fried or breaded.
Of course, you should always stick to your bariatric surgeon's dietary guidelines when eating out—the rules are the same as at home. Remember to portion your food properly and avoid drinking 15 minutes before and 30 minutes after your meal.
What are some of the best restaurants after LAP-BAND, sleeve gastrectomy and gastric bypass in Ypsilanti, Saginaw and Detroit? Share your favorites in the comments below!